Turnip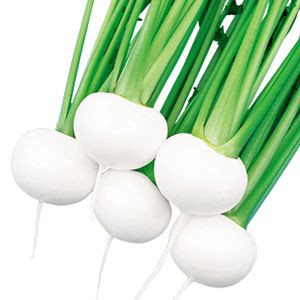 F1 Hybrid
CR TAKAMARU
Year round harvest and club root resistant.
CR TAKAMARU is a versatile F1 Hybrid suitable for year round cropping periods in Spring, Summer, Autumn and Winter. Thrives extraordinarily well in Summer. Strong leaves are upright and sturdy. Root shape stays consistent, uniform and resists cracking. Flesh is firm and very tasty.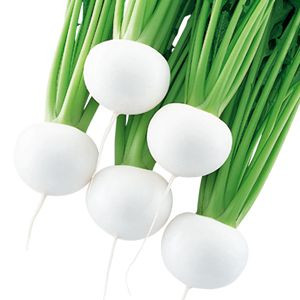 F1 Hybrid
HAKUJU
Resistant to club root and white rust, easy to cultivate, delicious, for spring and autumn sowing.
HAKUJU is a spring and autumn sowing variety resistant to club root and white rust with many upright leaves and strong petioles. Root is white with gloss, uniformly globe shaped with rare deformation and cracking, and slow to pithiness. Flesh is minute and of good taste.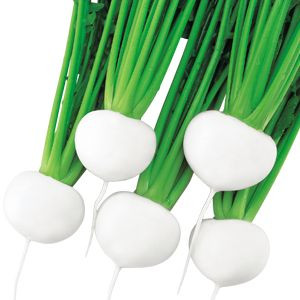 F1 Hybrid
HAKUTAKA
Standard autumn-spring small Turnip.
This variety is an extra late bolting F1 Hybrid with strong resistance to against splitting, diseases and pithiness. Root maintains consistent shape with lustrous snow-white skin and superb internal quality. Dark green and upright foliage allows for high density planting. Fragile in heat, not suitable for summer harvest.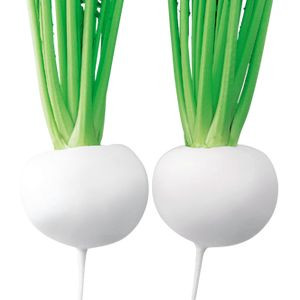 F1 Hybrid
HAKUHAI
Autumn-winter sowing medium turnip.
A clean white globe shaped root is approximately 700 grams and 8-13 cm long after 60 days. Uniform with white lustrous skin, firm sweet flesh is excellent for pickling. Tolerant against pithiness, Downy mildew and bacterial attacks. Not recommended for spring-summer sowing.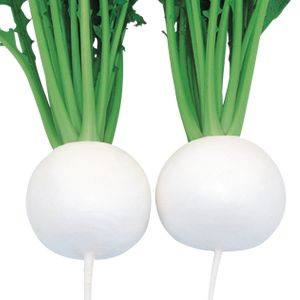 F1 Hybrid
CR SHIRAYUKI
Club root resistant with medium size root.
CR SHIRAYUKI is Club root resistant, globe shaped, and very uniform. Roots can be harvested from small to medium in size. Root is slow to pithiness and cracking, and the flesh is tender and juicy. This is a slow-bolting type that is suitable for autumn-spring sowing. Vigorous growth.
F1 Hybrid
CR OMASA
Large and club root resistant.
Large sized and globe shaped, CR OMASA can be harvested in about 75 days after sowing. Roots can weigh up to over 1.5kg are uniform in shape and slow to pithiness. Firm and tender flesh is ideal for pickling. This is a vigorous grower with excellent Club root resistance. Recommend for Autumn sowing use. Late cracking.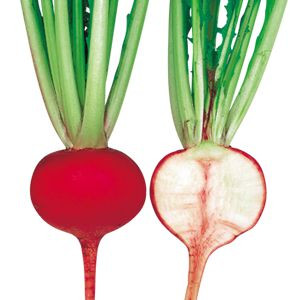 F1 Hybrid
AISHINKU No.1
Fine textured red turnip.
AISHINKU No.1 is an F1 Hybrid that grows a beautiful bright red root 10-13cm in diameter. Tops are green and 60-65cm long. Easy to cultivate, strong to virus infections and downy mildew. AISHINKU No.1 is a slow-bolting type suitable for spring sowing. Great choice for pickling.
F1 Hybrid
HYAKUMANGOKU
Suitable for pickling.
HYAKUMANGOKU is an F1 hybrid with pale green shoulder, suitable for pickling with good flesh of sweet and excellent taste. Root is 12cm in diameter with rather wider base and glossy. Half root is clear pale green shoulder. The variety should be sown except in November to January in temperate zone (Tokyo standard).